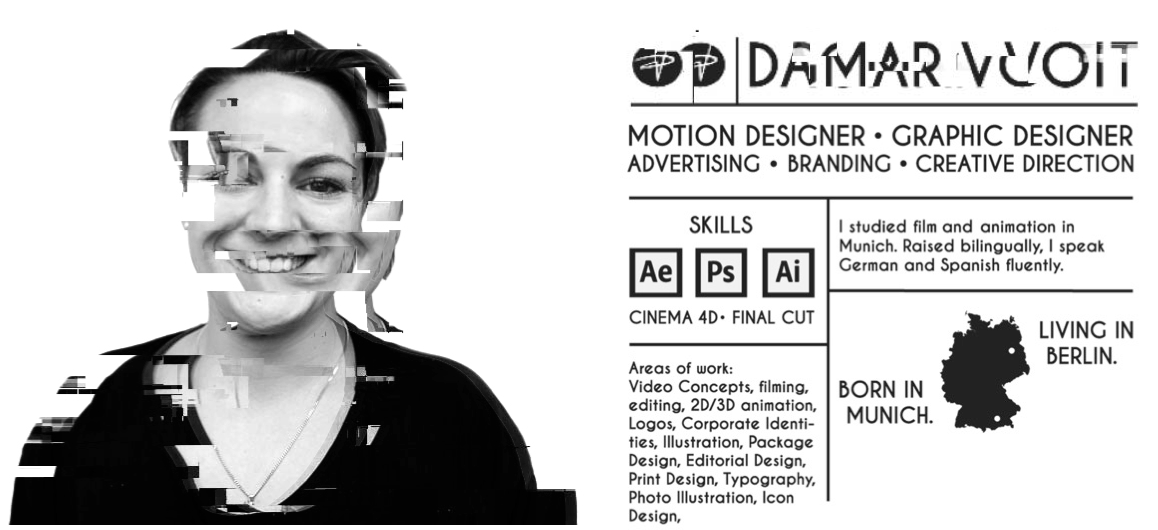 Ich arbeite als Freelance Motion und Grafikdesignerin hauptsächlich in Berlin und München.
Meine alltäglichen tools sind Adobe After Effects, Adobe Photoshop, Adobe Illustrator, Adobe InDesign und Adobe Premiere Pro. Ich arbeite aber auch gelegentlich im Bereich 3D mit Cinema 4D.
Ich bin also sowohl in der Welt der Bewegtbilder, als auch der des Grafikdesigns zuhause. 
Jedes Projekt ist ein Abenteuer. Ob im Alleingang oder im Team, ich liebe es Ideen zu entwickeln und sie zu verwirklichen. Dies könnte im Bereich Film sowohl als DoP, Editor/Schnitt, Motion Designer und Visual Effects (VFX) Artist sein. So kann ich zum Beispiel ganze Projekte vom Filmen bis zum Schnitt und  gegebenenfalls VFX übernehmen.
Also zum Beispiel: Werbefilme, Musikvideos, Imagefilme ...


Im Bereich Grafik kann ich Corporate Identities (CI) und Brandings entwickeln und umsetzen. Ich designe aber auch Logos (Iconic & Typografie), Illustrationen und Character.
Ich arbeite aus Berlin und München, bin aber auch regelmäßig in Mailand und Barcelona. Ich spreche deutsch, spanisch, englisch, italienisch und französisch.

After working for a german TV network, I decided to do the next step and work as freelance Motion and Graphic Designer.

My daily tools are Adobe After Effects, Adobe Illustrator, Adobe Photoshop, Adobe Premiere Pro and Adobe InDesign.
Eventually I also work with Cinema 4D. 
Every project is a new adventure. No matter if alone or part of a team I love to concept, develope and produce projects. Those could be as DoP, Motion Designer, Editor, Visual Effects Artist or creating a corporate identity/ branding, illustrations, typography, logo design, character design and print.
My base is in Berlin and Munich but I also switch frequently between Milano and Barcelona.  I speak german, spanish, english, italian and french.
Brands I have been working with: